The Arewa Youths Consultative Forum has suspended its quit notice to Igbos living in the northern part of the country.
The coalition of northern youth groups announced this on Thursday after a meeting in Abuja.
In attendance at the meeting were the Governor of Borno State, some Igbo traditional rulers, and elders from the north.
The decision to suspend the notice comes barely three weeks after the northern youths and Igbo traditional rulers living in the north met in Kano to thrash out the issues threatening the peace.
Read also:Quit order: Igbo spit fire
"As a consequence of this vigorous engagement and as cultured people with a tradition of respect for our national values, leader and elders we are today pleased to announce the immediate suspension of the relocation clause, otherwise referred to as the quit notice from the Kaduna declaration.
"This suspension we are proud to say is also out of respect for and reaffirmation of our allegiance to one united peaceful and prosperous Nigeria and in our unshaken confidence in the political will and the sincere commitment of our dear President Muhammdu Buhari to take a holistic look at all the concerns we raised," a leader of the group stated.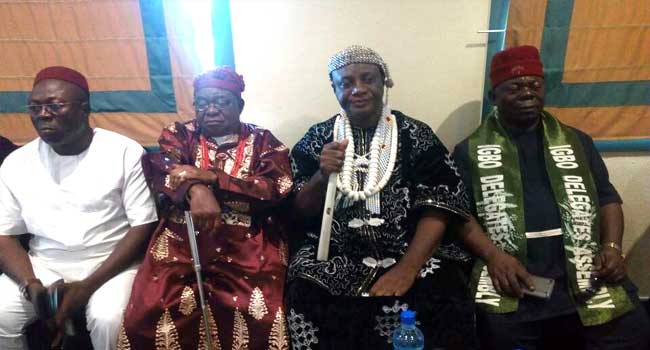 The group had on June 6 given Igbos three months' notice to quit northern Nigeria stating that it would allow them to achieve their call for secession.
But the move attracted widespread criticism with the Kaduna State Government ordering the arrest of those behind the notice, a day after it was issued.
The government and many others who condemned the notice said all Nigerians had the "constitutional and human rights to live peacefully and own property wherever they choose".
To ease the regional tension that followed the Vice President Yemi Osinbajo, who was Acting President at the time, held meetings with the leaders of both region during which he insisted that the unity of the nation was not negotiable.